The AR-15 is a family of lightweight, 5.56×45mm, magazine-fed, air-cooled semi-automatic, gas-operated rifles with rotating bolts. The design is based off the ArmaLite AR-15, which was made during the Vietnam War. The AR-15 was made in 1958 and military variants have continued to be used by armed forces. The AR-15 is a fairly common gun in the USA and around the world. During the apocalypse, the AR-15 would probably be one of the best guns to use.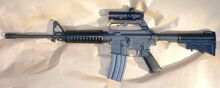 Pros
Fairly common as it is used around the world by armed forces
The ammo for this gun is common (5.56x45mm)
Very Accurate
Powerful
Cons
Loud.
Hard to find in some countries with strict gun control.
Ad blocker interference detected!
Wikia is a free-to-use site that makes money from advertising. We have a modified experience for viewers using ad blockers

Wikia is not accessible if you've made further modifications. Remove the custom ad blocker rule(s) and the page will load as expected.