Television Series
Edit
Andrea
was a civil rights lawyer. Andrea and her sister, Amy, were one of the many survivors to take refugee at the camp outside Atlanta, Georgia and made their home in Dale Horvath's Camp RV.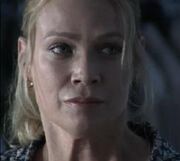 Andrea is intelligent, cautious and extremely protective of her younger sister, with whom she has not always had the closest relationship. Never one to shy away from a challenge or a fight, Andrea is stubborn, opinionated and first and foremost interested in keeping Amy safe. They do not know what has become of their parents, but Andrea has no real expectation of them being alive and will endeavor to stand strong as the only family Amy has left. Her closeness to Amy is what directly influences her into becoming suicidal around the end of season 1 and possibly her reason to punish Dale, as she blames him for not letting her go. This is a stark contrast from her comic verison, who while mournful, did not want to die or punish Dale for trying to get her to move on.
Pre-Apocalypse
Edit
Andrea was born twelve years before her sister. When she was a kid, her father frequently took her fishing with him and taught her all of the techniques he knew. She eventually went to college to study law. During this time, she frequently missed Amy's birthday parties, presumably because of her studies. After graduating college, she became a civil rights attorney (based in Florida) and had high success.
She was on a road trip with Amy, headed back to Amy's college when the zombie apocalypse occurred. They were stranded in Atlanta when they were rescued by Dale Horvath and met up with a band of other survivors.
Comic Series
Edit
Andrea is one of the few remaining survivors of the original Atlanta survivors who has survived the mysterious undead apocalypse that has swept the planet.
Pre-Apocalypse
Edit
Andrea is a member of the survivor group, and a central character within The Walking Dead series. She is a prominent figure within the survivors. She graduated from college and worked as a clerk at a law firm. She also had a younger sister named Amy. Amy was 2 years younger than Andrea. Before the zombie apocalypse went into full-force, Andrea was driving her sister back to college. They were on a road trip. The two sisters considered this a bonding trip, and despite the long journey it had become a sort of ritual for them. Along the way, Andrea's car broke down and she was forced to pull to the side of the road. The two sisters were the first of the survivors to be picked up by Dale, who had been driving along in his RV and noticed the two women were stranded.
Ad blocker interference detected!
Wikia is a free-to-use site that makes money from advertising. We have a modified experience for viewers using ad blockers

Wikia is not accessible if you've made further modifications. Remove the custom ad blocker rule(s) and the page will load as expected.