Barrett M82
Talk

0
763pages on
this wiki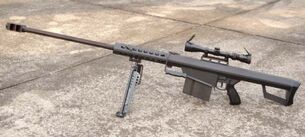 The Barrett M82 is an American developed anti-material rifle created in 1982. It is very popular internationally, as it is used in over 30 different countries in the military, and many rebels use them also.
Although it is effective in conventional battles, the zombie apocalypse is anything but. It is designed as anti-material rifle, firing the huge 12.7x99mm "50 cal" BMG round, and as such designed for use against military equipment and light armored vehicles, rather than against human targets. Although it can easily for this reason clean a zombie's head off, it has no advantage over smaller cartridge sniper and hunting rifle except on extreme range, and even then the lighter .338 Lapua Magnum performs better, without most of the problems accompanied with 12.7x99 mm rifles. Both weapon and ammunition is extremely heavy. Firing requires specialized training, as it is known to break inexperienced users' shoulders. It should NEVER be fired unsupported to avoid injury. Those factors deny much movement with the weapon. It is also extremely loud. With all these factors taken in, Barrett M82 should in most cases be ignored. Its only use would be stationary for protection of a base or for picking off looters and/or bandits from a distance, but like said before, it has few advantages over traditional rifles.
Availability
Edit
It is rare to find one for civilian use due to laws and price, but is not impossible. With a cleaning case, the average price is a little over $8000.