A battleship is a large armored warship with a main battery consisting of large caliber guns. During the late 19th and early 20th centuries the battleship was the most powerful type of warship, and a fleet of battleships was vital for any nation that desired to maintain command of the sea. During a zombie apocalypse, going out to sea is a great option if it is possible and a battleship would definitely be a great sea vehicle for many reasons.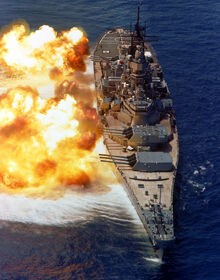 Pros
The zombies can't get you out at sea.
Can be used as a base of operations.
Cons
Requires a crew of just under 2000 to operate
No currently extant battleship has operational weapons or ammunition, and would require a dock crew of hundreds to restore them to working condition and load the vessel.
Requires nearly a hundred people to operate a single gun system
Requires 1.5 million gallons of fuel
All extant battleships are permanently moored, requiring extensive refitting to restore mobility
Difficult to find - all extant battleships but one are located in the United States, with the only other one moored in Japan