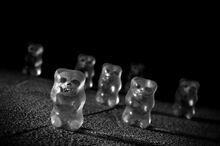 People with truly morbid tastes will never be satiated with fake body parts to eat, but the rest of us can satisfy our sweet tooth with a chocolate tooth (or eye or foot or bag of blood...). Confectioners have followed the trend of selling zombie-themed merchandise. Here are some examples: 
Skybar makes a variety pack of chocolate body parts filled with a delicious red gooey jelly.  
Oriental Trading offers Zombie Party Buttermints with blood-spattered wrappers. 
You can even make your own treats with a Mold of the Living Dead .