Weapon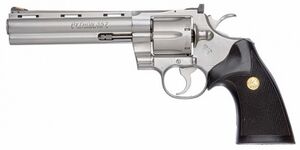 Colt Python
Manufacturer: Colt's Manufacturing Company
Weapon Type: Revolver
Size: 2.5-inch (6.4 cm), 3-inch (7.6 cm), 4-inch (10 cm), 6-inch (15 cm) and 8-inch (20 cm) barrel
Weight: 38 ounces (1.1 kg) to 48 ounces (1.4 kg)
Fire Modes: Double Action
Ammunition: .357 Magnum
Feeding System: Six-round cylinder
Rate of Fire: Double action repeater
Range: Max effective: 30-50 yards
Affiliation(s): Steady declination of use by law enforcement
The Colt Python is a .357 Magnum caliber revolver formerly manufactured by Colt's Manufacturing Company of Hartford, Connecticut. It is sometimes referred to as a "Combat Magnum". It has a six round cylinder magazine and an effective range of 50 yards.
Pros
Ammo for this gun is common (.357 magnum)
Cons
Ad blocker interference detected!
Wikia is a free-to-use site that makes money from advertising. We have a modified experience for viewers using ad blockers

Wikia is not accessible if you've made further modifications. Remove the custom ad blocker rule(s) and the page will load as expected.