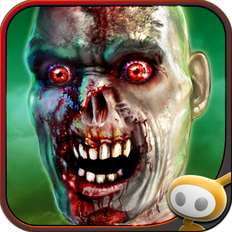 Contract Killer: Zombies is a 2011 zombie horror survival game for Android and IOS.It's one of many games in the  Contract Killer Series and one of two in the Contract Killer Zombies series. It was developed by Glu Moble and released for Android and IOS on  December 15, 2011 and is now avalible for perchase in The App Store
Game Plot Description
Edit
Save the remnants of humanity by infiltrating the zombie-infested city, stocking up on supplies, rescuing civilians and ushering them to safety while slaughtering every zombie in your path!  HELP THE SURVIVORS and assist Evelyn as she goes on supply runs and special missions. Build up an arsenal of AWESOME ZOMBIE KILLING WEAPONS and gear including sniper rifles, assault guns and grenade launchers!  Take aim and collect bonuses for HEADSHOTS and MULTI-KILLS!
Ad blocker interference detected!
Wikia is a free-to-use site that makes money from advertising. We have a modified experience for viewers using ad blockers

Wikia is not accessible if you've made further modifications. Remove the custom ad blocker rule(s) and the page will load as expected.