Ad blocker interference detected!
Wikia is a free-to-use site that makes money from advertising. We have a modified experience for viewers using ad blockers

Wikia is not accessible if you've made further modifications. Remove the custom ad blocker rule(s) and the page will load as expected.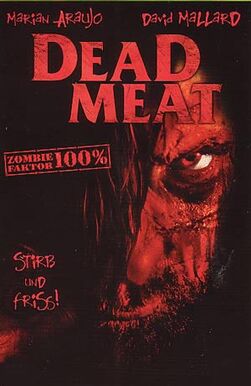 Dead Meat
From Wikipedia, the free encyclopedia Jump to: navigation, search Dead Meat Directed by Conor McMahon Produced by Michael Griffin Edward King Executive producer Brendan McCarthy II Written by Conor McMahon Starring Marian Araujo David Muyllaert Music by John Gillooley Cinematography Andrew Legge Editing by Conor McMahon Distributed by Three Way Distributors Release date(s) October 2004 (US) December 2004 (Ireland) Running time 80 min Country Language English Budget 110,000 Euro Dead Meat is a 2004 Irish zombie film written and directed by Conor McMahon, starring Spanish theatre actress Marian Araujo and veteran Irish actor Eoin Whelan.
Plot summary

A mutated strain of mad cow disease infects the Irish countryside, turning people into ravenous, flesh-eating zombies. Caught amid this chaos are a young Spanish tourist and the local gravedigger. Together, this unlikely duo must fight for survival or become part of the zombie fest.
Trivia
Lists of miscellaneous information should be avoided. Please relocate any relevant information into appropriate sections or articles. (December 2007) 

According to the "making of..." featurette included in the U. S. DVD release, the film was greenlighted under a new funding scheme from the Irish Film Board called "Microbudget Films", targeted at frugal independent filmmakers. Dead Meat was the first microbudget film to receive a release. To cut costs, the crew used many donated sets, filmmakers' personal vehicles and recruited volunteer extras at the local pub. One of McMahon's earlier short films, Braineater, used a similar stunt involving a sliotar as a weapon as is used in Dead Meat. Braineater was produced by Eoin Whelan, who played a belligerent hurling coach in both films. Dead Meat received video distribution by Revolver Entertainment in the U. K. and Fangoria Entertainment in the U. S.. Dead Meat was filmed in and around the village of Leitrim, County Leitrim, Republic of Ireland. David Muyllaert, who played heroic gravedigger Desmond in Dead Meat, also sang lead on the film's title song, the punk-metal-ish "Dead Meat".