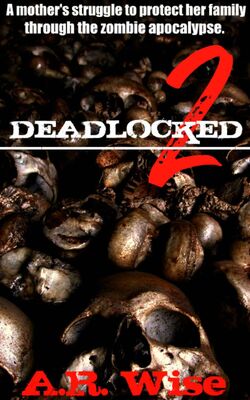 Deadlocked 2 is a 2011 Zombie Book Written By A.R Wise It Is Also The Second Novel In The Deadlocked Series
Discription
Edit
Part two of the series picks up immediately after the end of the first. David's wife, Laura, is forced to take over the protection of their family as the boat travels out into Hailey Bay, away from the zombies. However, the boat's pilot plans to dock back in the overrun city to rescue his own family, which will put Laura, Kim, and Annie in jeopardy.  Laura is forced to overcome unimaginable horrors as the zombie apocalypse explodes around her, but it is the evil intent of humans that present her greatest challenge. The reader is taken far beyond the edge of their seat as Laura pushes forward to the inevitable end. No one is safe in a world where the dead hunt the living.
Ad blocker interference detected!
Wikia is a free-to-use site that makes money from advertising. We have a modified experience for viewers using ad blockers

Wikia is not accessible if you've made further modifications. Remove the custom ad blocker rule(s) and the page will load as expected.