Ad blocker interference detected!
Wikia is a free-to-use site that makes money from advertising. We have a modified experience for viewers using ad blockers

Wikia is not accessible if you've made further modifications. Remove the custom ad blocker rule(s) and the page will load as expected.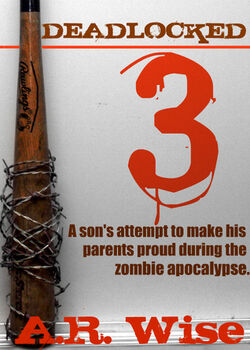 Deadlocked 3 Is a 2012 Zombie Book Written By  A.R Wise It Is Also The Third Novel In The Deadlocked Series And The Second Sequel To The First Novel
Discription
Edit
The Deadlocked series continues as Billy heads into the city in search of his mother. During his quest, he will meet a strident military figure that will alter his journey and two brothers that will become his closest allies. However, his trip will endanger the family he has only just met, and he might not be able to save them.  Billy's journey into the city will reveal many of the secrets of this penultimate novella. No characters are safe from the terror that has engulfed the city, and as the motives of those in charge begin to be revealed, the fate of all mankind will be in question.