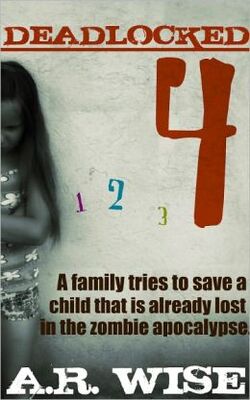 Deadlocked 1 Is a 2012 Zombie Horror Book Written By A.R Wise And The Fourth Novel In The Deadlocked Series And The Third Sequel To The Original Deadlocked Novel
Discription
Edit
It all ends here. The characters of the Deadlocked series have been through nearly unbearable challenges, but they're about to face the hardest yet. Kim has been taken by the cruelest, most vile person in the series, and it's up to Billy and Levon to save her. All the while, Laura fights for her life in the grip of the military as they perform tests on her daughter, Annie, that are risking the little girl's life.  The conspiracy behind the rise of the zombie plague will be revealed as Reagan uncovers the horrible secret that led to the murder of six and a half billion people. The world hangs in the balance as one family fights to survive.
Ad blocker interference detected!
Wikia is a free-to-use site that makes money from advertising. We have a modified experience for viewers using ad blockers

Wikia is not accessible if you've made further modifications. Remove the custom ad blocker rule(s) and the page will load as expected.