Doghouse is a 2009 British zombie-themed comedy film.
The plot revolves around a group of men who travel to a remote village in England to help one of their friends get over his divorce. Upon arriving, they discover that all the women have been infected with a toxin that turns them into man-hating cannibals.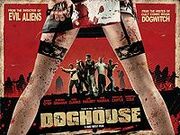 The film was released in the United Kingdom on 12 June 2009.
The film was written by Dan Schaffer, directed by Jake West.
Cast and Characters
Edit
Stephen Graham as Vince, recently divorced and struggling to get over it.
Danny Dyer as Neil, self proclaimed ladies man "the ladies love me" and unreconstructed misogynist.
Noel Clarke as Mikey
Lee Ingleby as Matt, who works in a comic books store.
Keith-Lee Castle as Patrick, formerly a high powered businessman but more interested in playing golf and meditating.
Emil Marwa as Graham, leaves his boyfriend behind to go away for the weekend.
Neil Maskell as Banksy, the friend who always arrives late. He runs his own electrical business and drives a van painted black with a red stripe like the van from the A-Team.
Christina Cole as the bus driver "Candy". She introduces herself as Ruth however after a generous tip she agrees the boys can call her anything they like.
Terry Stone as Sergeant Gavin Wright, a name the characters constantly get wrong.
Nicola Jane Reading as the Witch, proprietor of the curiosity shop The Burning Witch, she wears a leather corset and attacks the men with a sword.
Jenna Goodwin as Dorothy Perkins
Emily Booth as The Snipper, a hairdresser who attacks with her scissors
Tree Carr as Julie, a girl Mikey had dated when he was younger, but it had "ended badly".
Ria Knowles as Pigtails
Alison Carroll as The Teen. Lara Croft model and actress Alison Carroll in her first film role.
Deborah Hyde as The Barmaid at the local pub The Cock and Bull
Victoria Hopkins as The Bride
Beryl Nesbitt as Mikeys Grandmother
Mary Tamm as Meg Nut, local politician.
Billy Murray as Colonel
Adele Silva as Bex, Mikey's Wife
Jessica-Jane Clement as Neil's girl
Critical Response
Edit
The film received mixed reviews. On Rotten Tomatoes it has a 43% rating from 21 reviews counted. Mark Adams from the Sunday Mirror described this film as "A nicley gory comedy-horror flick that is a diverting bit of lads' entertainment." Despite this review, some others did not, however, agree. Jason Solomans Observer called it " A dim zombie movie." Catherine Shoard of the Guardian opined "... undeniable misogyny and a definite creative bankruptcy. So is it fun enough to compensate? Just about" and gave it a rating of 2 stars out of five.
Michael Dwyer of the Irish Times gave it only 1 out of 5 stars. Critics noted the films release closely followed after Lesbian Vampire Killers another 2009 British comedy horror film and complained of borrowing ideas from Shaun of the Dead.
Ad blocker interference detected!
Wikia is a free-to-use site that makes money from advertising. We have a modified experience for viewers using ad blockers

Wikia is not accessible if you've made further modifications. Remove the custom ad blocker rule(s) and the page will load as expected.