Weapon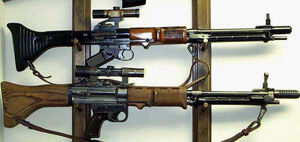 FG-42
Manufacturer:
Rheinmetall (Limited)
Heinrich Krieghoff
Waffenfabrik, L. O. Dietrich (Limited)
Weapon Type: Battle Rifle
Size:
Ausführung "E":
945 mm (37.2 in)
Ausführung "G":
975 mm (38.4 in)
Weight:
Ausführung "E":
4.2 kg (9.3 lb)
Ausführung "G":
4.95 kg (10.9 lb)
Fire Modes:
Semi-Automatic
Full Automatic
Ammunition: 7.92×57mm Mauser
Feeding System: 10-20 Round Magazine
Rate of Fire: 750-900 rounds/min
Range: 600 m
Affiliation(s): Germany
The FG-42("Fallschirmjägergewehr 42" or "Paratrooper Rifle 1942") is a select-fire battle rifle designed and developed in Nazi, Germany. During the war, German troops would be dropped into the battlefield and their weapons would be separated from them. This cost many their lives and therefore paratroopers needed a rifle they could use upon entering combat.
Several weapons were issued such as the MG-81, even the STG-44 were offered, however troops favored the 7.92 used by many other rifles, but wanted something that possessed select-fire like the STG-44. The FG-42 was the answer to the prayers of many German paratroops.
Specifications
The FG-42 was one of the most innovative weapon designs to be introduced by World War 2. Initial models utilize a very sharp angled pistol grip, however later variations used a more conventional pistol grip. They were designed to use a magazine system similar to that of the British STEN and Sterling Submachine Gun, which used side mounted magazines to that of 90 degrees, but unlike those weapons, it used a 10-20 round magazine. Despite it's unique design, the weapon is chambered in the standard 7.92mm Mauser ammunition favored by many troops during the war.
The FG-42 came equipped with a foldable by fixed bipod on the front, giving the shooter the ability to shoot when crouched behind cover or in prone positioning. Many mostly used the standard issued iron sights, however some did use the ZFG42 or ZF4 Scope. Some FG-42s also came equipped with an 8 inch long pick sticker bayonet. In terms of select-fire, the weapon fires in both semi and full automatic. There's a way to differentiate between the fire modes, now in semi-automatic mode, the bolt will remain closed after being shot and opened when in full-automatic. The reason why it does this in full automatic is due to the fact that it cools it better and therefore reduce thermal induced firing or "Cook Off".
Pros
Good in terms of accuracy.
Cons
The side mounted magazine tilts the weapon a bit to the left, obviously due to the full magazine. This reduces the accuracy of the weapon.
Recoil is significant, so don't be surprised if it has some kick.
Full automatic isn't ideal for combating zombies, not to mention a waste of ammo.
Bipod can be folded back up should anyone be forced back by the recoil.
Putting your hand around the entire handguard is a really bad idea as the holes on the top are for air coolant and will scorch your skin that way.
Trivia