Factory
Talk

0
761pages on
this wiki
A factory is huge enough for a large group of survivors to (depending on what kind of factory it is) fortify the factory however only a section of the factory is recomended to secure if there are zombies in the factory then you will have to take them out with melee weapons due to some factories increasing the sound of gun fire and some factories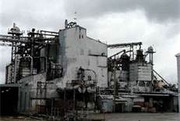 depending on where the factory is located will have plenty of escape routes (for example if the only way to the factory is by bridge then the factory will have access to the sewers.)
Advantages
Edit
A factory on an island will have access to the sewers.
A factory has plenty of things to use to fortify it.
May contain machinery and equipment that will be useful to your survival. Such as a factory that produces solar panels, bullets, weapons or other things of that nature.
Disadvantages
Edit
If the factory is surrounded it will be hard to use an escape route
Bandits will raid the factory.
Survivors may have already looted the factory.
Will not contain much space for people to live in. They are not Warehouses (large open spaces) they are factories originally used to manufacture a product so will be built with the main intent of that product.