Firearms
Talk

0
756pages on
this wiki
A firearm is a weapon that fires either single or multiple projectiles, propelled at high velocity by the gases produced through rapid, confined burning of a propellant. Firearms are powerful, and indeed most are highly effective weapons against the living dead, even at range. However, firearms have their drawbacks. Users are required to carry ammunition and frequently maintain and clean their weapons. Firearms are also loud, require time to reload, and are inaccurate in the hands of an inexperienced user.
The availability of firearms varies in different countries. If you live in America consider yourself lucky, because the estimated total number of guns (both licit and illicit) held by civilians in the United States is 270,000,0001 to 310,000,0002. So you should have no problem obtaining one. Also depending on where you live, states like Arizona, Texas, and Wyoming where gun ownerships are high, owning a gun pre-apocalypse is about has easy as getting a bag of groceries. Other countries like Japan, England, North Korea, China, and Russia. Where gun ownership has more restrictions, or outright banned. You're going to have a harder time finding one.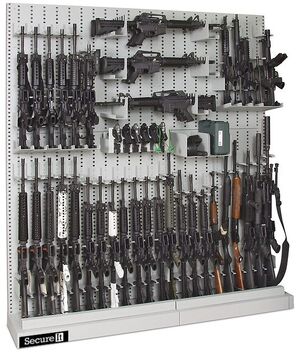 When choosing a firearm, it is always advised that one selects a weapon that fires a common ammunition type and has low to medium recoil. High-powered rounds will strain the shooter, and exotic ammunition may be difficult to find during a crisis.
Common types of firearms include: