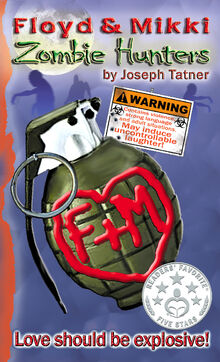 Floyd & Mikki: Zombie Hunters, is a unique zombie book that packs plenty of action and creepy horror as Floyd and Mikki rely on each other, their wits, and whatever supplies they can scavange as they travel to the Midwest, to New California Haven, the last safe zone in America. Lost in a shattered world populated by the undead, they don't know what caused the infection or how to stop it. With wry humor and snarky comments, they encounter plenty of action, colorful characters, and riveting horror as they fight to stay alive and help others along the way.
Floyd and Mikki: Zombie Hunters is an unpredictable adventure that keeps you guessing and waiting on the edge of your seat to see what comes next. As Anne-Marie Reynolds wrote in her review, "Floyd and Mikki: Zombie Hunters' is an amazingly funny book, a zombie book that is so totally different from every other one on the market. I couldn't help but laugh out loud at their antics. Joseph Tatner has a brilliant turn of phrase, a fantastic aptitude for telling a story, and is very funny with it. Amazing story, great characters and a really good plot all combine to make this an explosive and hilarious novel. Despite all of the zombie movies out there, this is one I would love to see on the big screen."
This is one zombie novel for readers with a brain! For more information, visit http://zombie.wikia.com/wiki/User:Floyd_and_Mikki Buy the eBook now at http://amazon.com/dp/B00O5TWAY6
Ad blocker interference detected!
Wikia is a free-to-use site that makes money from advertising. We have a modified experience for viewers using ad blockers

Wikia is not accessible if you've made further modifications. Remove the custom ad blocker rule(s) and the page will load as expected.