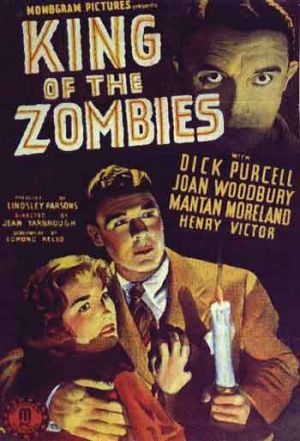 King of the Zombies (1941) horror comedy film produced by Monogram Pictures.
During World War II, a Capelis XC-12 plane somewhere over the Caribbean runs low on fuel and is blown off course by a storm. Guided by a faint radio signal, they crash-land on an island. The passenger, his manservant and the pilot take refuge in a mansion owned by a doctor. The quick-witted yet easily frightened manservant (Mantan Moreland) soon becomes convinced the mansion is haunted by zombies, and confirms this with some of the doctor's hired help. Exploring, the three stumble upon a voodoo ritual being conducted in the cellar, where the doctor, who is in reality a foreign spy, is trying to acquire war intelligence from a captured US Admiral whose plane had crashed in a similar fashion on the island. But the interruption causes the zombies to turn on their master.
Ad blocker interference detected!
Wikia is a free-to-use site that makes money from advertising. We have a modified experience for viewers using ad blockers

Wikia is not accessible if you've made further modifications. Remove the custom ad blocker rule(s) and the page will load as expected.