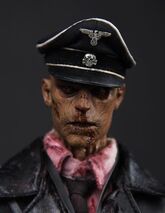 Kruger was an SS officer who through some unknown means was turned into a zombie along with one of his men,
Private Jakob
. He was released as part of DAM Toys'
Zombie Germans
line. Thin, gaunt and hollow-eyed and bedecked in a long black leather trenchcoat, Kruger still had his field binoculars around his neck. Unlike Jakob, Kruger's rank isn't stated on his box. He's simply identified as "SS Officer Kruger." However his insignia is that of an obersturmführer (lieutenant).