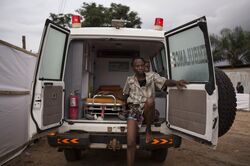 The Most Recent Recorded Attack In South Africa.
Villagers in Liberia are fearful that the Ebola outbreak in West Africa has caused two patients to "rise from the dead," reports say. Two women–in their 60s and 40s–died from Ebola in Nimba County, Liberia. Later, the local New Dawn paper claimed that the two were resurrected and are now alive, reported the Mirror. The victims were identified as Dorris Quoi of Hope Village Community and Ma Kebeh. They were being taken for burial when they apparently rose from the dead, the Mirror states.  .
Ad blocker interference detected!
Wikia is a free-to-use site that makes money from advertising. We have a modified experience for viewers using ad blockers

Wikia is not accessible if you've made further modifications. Remove the custom ad blocker rule(s) and the page will load as expected.