Weapon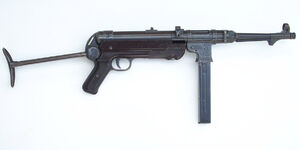 MP40
Manufacturer:
Steyr-Mannlicher
Erma Werke
Haenel
Weapon Type: Submachine Gun
Size: 630 mm (24.8 in (Stock Folded)-833 mm (32.8 in (Stock Extended)
Weight: 3.97 kg (8.75 lb)
Fire Modes: Full Automatic
Ammunition: 9×19mm Parabellum
Feeding System:
32 Round Stick Magazine
64 Round Dual Stick Magazines
Rate of Fire: 500-550 rpm
Range: 100-200 m
Affiliation(s): Germany
The MP40 ("Machinenpistole 1940" or "Machine Pistol 1940") is a submachine gun designed and developed by Nazi, Germany during World War 2. Like the MG-42, the MP40 replace the earlier model MP38 as the standard issued submachine gun of the Nazi Party. This was due to the fact that machined parts were time consuming and costly to manufacture.
The MP40 remained in service from 1940 until 1945 when Germany fell to the Allied Forces. Despite it's cease in production, over 1.1 million were produced and some are still used today on the modern battlefield.
Specifications
Edit
The MP40 was based around the MP38. Virtually both are identical in terms of design, however the materials made for the MP38 were all machined, which were more time consuming and expensive to make. The MP40 however was made from stamped steel and electro-spot welding.
The MP40 was designed with a foldable stock and most used one magazine in their receiver, however some did use dual magazines. The weapon's primary ammunition of the weapon was the 9×19mm Parabellum, standard in many other pistols and submachine guns.
Despite the weapon's full automatic fire, the MP40 was designed to control shots so a shooter could just simply pull the trigger once and fire a single shot.
The weapon is very good due to it's reduced recoil in terms of full automatic fire and the magazine as well as the magazine weld can serve as a foregrip. The magazine release is also on the magazine weld, facing towards the trigger, giving it quicker reloading capabilities.
Ammunition is plentiful.
Full automatic may not kill zombies and since it's a pistol caliber may not knock them down. It also wastes ammo so use it sparingly.
The MP40 and the Kar98k are two of the most common primary arms seen in films set in World War 2.
In some films and games, Nazi Zombies are shown to carry the MP40 as well as the Kar98k.

In the game "Sniper Elite: Zombie Army Trilogy", players can choose the MP40 as a close to medium ranged weapon. Some zombies however are shown to carry this along with the Luger P08 as a ranged and melee weapon.
In the film "Outpost", the MP40 is used by several zombies along with the Kar98k.
Ad blocker interference detected!
Wikia is a free-to-use site that makes money from advertising. We have a modified experience for viewers using ad blockers

Wikia is not accessible if you've made further modifications. Remove the custom ad blocker rule(s) and the page will load as expected.