A mace is a melee weapon invented during medival times. It is a club which consists of a spiked metal head connected to a wooden handle. They can deliver devestating blows and during the zombie apocalypse, they would be one of the best zombie killing tools.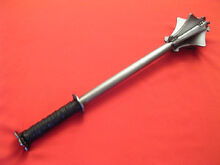 Pros
Very powerful and delivers devastating injuries
Powerful enough to break through skulls
Low maintainance
Possible to make at home
Cons
Close combat only
Can be heavy for weak or small people
Causes a lot of blood splatter, which can infect you if it enters your body
Ad blocker interference detected!
Wikia is a free-to-use site that makes money from advertising. We have a modified experience for viewers using ad blockers

Wikia is not accessible if you've made further modifications. Remove the custom ad blocker rule(s) and the page will load as expected.