Mall
Talk

2
752pages on
this wiki
Malls have been the place of refuge in Dead Rising and Dawn of the Dead.
Description
Edit
Malls are vast large open buildings spread across most of the United States. They are built with a large variety of shops and restaurants which can suit a small group of survivors for a limited time. Larger groups require more food. The types of provisions can differ depending on the mall. The food court can offer a large amount of food, but without refrigeration, much of it can spoil before use. With the great abundance of salt packets, it wouldn't be impossible to salt and cure meats. Although it would be best if someone in the group has prior knowledge, otherwise you can ruin usable food. Weapons can be found at the guard station in a mall. This will most likely be less than lethal weapons such as pepper spray and batons. Which can be helpful against humans but would be mostly useless on zombies. Walkie-Talkie radios can be found which can prove a much more valuable resource. In a zombie apocalypse, information can prove more vital than weapons. A lookout on the roof that can radio in incoming bandits instead of yelling can allow you to prepare your defenses much more quickly.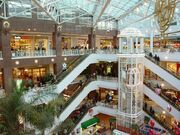 But fortifying one should be avoided, because once the power goes south that means no more playing video games at the game store, and no more watching star wars on four giant flat screen tv's, and with no air conditioning and ventilation. In the end that will leave you in the dark sweating your skin off wondering on how to cook popcorn with no heat source
Sturdier store gates can make for a good last defense in case you get overrun,but they need to be maintained or they will rust.
Supplies for a couple of months.
Different escape vehicles may be available.
Many fall backs.
Doors are easy to fortifiy
Can be large enough for zombies to be hiding anywhere. (This can be overcome if you plan on staying for a while, by days of searching)
Unsustainable Resources
Many entrance points to be concerned with if your party wishes to access the main corridors.
Large and difficult to hold.