Miniguns
Talk

0
752pages on
this wiki
"Necessity is the mother of invention.-"Plato
"Miniguns are the mother of slaughter"- Anyone who's ever used a minigun.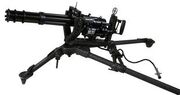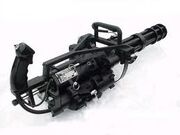 The minigun is a 6-barrel electrically driven machine gun. The electric drive rotates the weapon within its housing, with a rotating firing pin assembly and rotary chamber, fed by a linked ammo strip. Miniguns are characterized by their extremely high rate of fire. Hollywood has shown the massive destructive potential of this weapon in the hands of action-movie stars like Arnold Schwarzenegger: turning one man into a weapon of mass destruction capable of shredding houses like paper and clearing acres of rainforest at a rate to put even the most aggressive logging companies to shame. An example is the M134 minigun (chambered in 7.62x51mm NATO). Unfortunately, this weapon ranks about as low as the chainsaw in terms of practical use against zombies.
The first problem is noise. A minigun burst fired only to kill ten zombies might attract a hundred more.
Second, the minigun's extreme rate of fire means that, even assuming you can find a significant quantity of ammunition for it, it will chew through that ammunition in no time flat. Firing in short bursts does little to mitigate this, as even a one-second burst from such a weapon expends more then 50 rounds of ammunition. If the minigun is out of ammunition, it will only be a burden piece of steel until more ammunition is found.
Third, a minigun is not a man portable weapon. It can not be fired effectively on the move, as the gun unloaded is at least 45 pounds and the kick of a rifle cartridge minigun can drive back a professional wrestler, to be used effectively this weapon must be stationary or vehicle mounted.
Fourth, as with all automatic weapons, miniguns are generally unnecessary for fighting traditional zombies. When all that is needed is an accurate headshot, automatic fire overuses ammo. This is especially true for miniguns, which is originally made to suppress enemy into ducking their head instead of killing them.  If you spray one into a horde, chances are all you'll do is cut them down into a horde of slower, yet still dangerous crawlers. 
Miniguns are usually mounted only on vehicles, because their high rate of fire is a huge asset when you're firing from a fast moving vehicle, as you generally have only a very small window of opportunity to fire at any given target. The more rounds you can fire in that brief period of time, the better the chance of a hit. Thus, the only strength this weapon has is it's ability to lay down enormous amounts of suppressing fire in a very short time. In a zombie scenario, this could be useful for stationary defenders trying to hold a narrow chokepoint or as a mounted weapon on a vehicle.
The most effective uses of one would be against infected zombies, or against bandits. But in truth even for those purposes the Minigun is overkill. Most civilians would not know how to operate such a weapon in the first place. A single-barreled light, medium, or heavy machine gun (such as a 7.62mm M60 or .50 caliber M2 Browning) would fulfill the same roles more effectively, as they don't require battery power and don't squander ammunition at such an incredible rate. Although it could turn a small horde of zombies into a fine red mist in no time flat, the disadvantages of the minigun far outweigh what few advantages it has.
The main way to get one would be to find a deserted army base, or one mounted on an armed vehicle.