A museum is a building containing plenty of objects from the past, even before some of us were born. However the value of a museum will vary as some tend to be larger, or smaller than others. They will contain a variety of things from the past such as ovens from the early nineteen-hundreds, old cars, fine art, weapons, etc.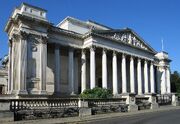 So depending on what kind of museum it is it will have it's different ups, and downs such as the way the building itself was built, some may have been built like a large, temple like building, to a simple common building.
Advantages
Edit
A museum sometimes contains guns from decades ago, however (read disadvantages below).
Some may have a food court therefore having access to not only food, but if one were to get the power running, they will have access to the stoves, and fridges in the kitchens.
A museum may contain a gift shop, meaning you may have access to some clothing, and a couple other items you will need.
Given the fact that rules have been changed, and the fact that there are some items in a museum that are kind of useless in a post-apocalyptic world you may simply destroy said useless objects as a form of entertainment, just don't make too much noise as a section of the museum may increase the sound of the shattering object.
Disadvantages
Edit
A museum containing guns from decades ago are not recommended to use, due to the fact that these guns are in todays world considered antiques, meaning that if used they can break and make a small combustion that can take out your eye, and given the time that has passed since their last use there is a good chance that their inner workings may have locked up.
Museums tend to be in populated areas.
Museums tend to have a number of entrances, and exits.
There may not be too much space to live in, as a museum was meant to store things from way back when. And will stay that way.
Ad blocker interference detected!
Wikia is a free-to-use site that makes money from advertising. We have a modified experience for viewers using ad blockers

Wikia is not accessible if you've made further modifications. Remove the custom ad blocker rule(s) and the page will load as expected.