New Zealand is an island nation in the southwestern Pacific Ocean. The country geographically comprises two main landmasses—the North Island (or Te Ika-a-Māui), and the South Island (or Te Waipounamu)—and around 600 smaller islands. New Zealand is situated some 1,500 kilometres (900 mi) east of Australia across the Tasman Sea and roughly 1,000 kilometres (600 mi) south of the Pacific island areas of New Caledonia, Fiji, and Tonga. Because of its remoteness, it was one of the last lands to be settled by humans.
New Zealand During World War Z
Edit
During the events of World War Z, New Zealand escaped the worst of the apocalypse, due to it's remoteness and low population. However, when the apocalypse reached New Zealand, a group of a few hundred native Maori cleared all of Auckland of zombies just by using traditional clubs and war axes.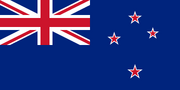 Ad blocker interference detected!
Wikia is a free-to-use site that makes money from advertising. We have a modified experience for viewers using ad blockers

Wikia is not accessible if you've made further modifications. Remove the custom ad blocker rule(s) and the page will load as expected.