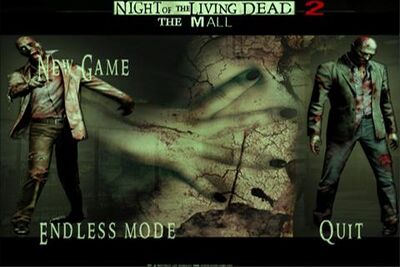 Game Info
Edit
Night of The Living Dead: 2 The Mall is a 2012 zombie survival horror game and a direct sequel to Night Of The Living Dead: Survivor Night Of The Living Dead: 2 The Mall is based on  George A Romero's Night of the Living Dead And George A Romero's Dawn of the Dead. And is the second game of the Night of the Living Dead series for Android.
Johnny's Opening Narration
Edit
My name is Johnny... It's benn a hell of a journey. I escaped from the farm... I made it into a shopping mall... The dead won't stay dead!And my sister is still missing If i am honest... I am so tired. But... I need to go on.
Johnny has escaped the farmhouse when the search party came and was traveling on foot. Somehow he ended up in the suburban dawn of the dead shopping mall where he teams up with the survivors there. But his sister barbara is still missing! Armed with the same Glock 17 pistol their mission is to survive and to locate and save Barbara.
Game Modes And Features
Edit
New Game: (Singleplayer Campaign)
Edit
Survive the night time of undead hordes unti'l it's daylight to complete levels. There is a certain amount of enemys and a certain amount of waves you have to survive and find his sister Barbara You have a ammo and health cache in a not given location that you must find yourself  that you use to survive until then. 
Endless Mode: (Singleplayer Survival Mode & Multiplayer)
Edit
Located in The Mall you must survive the Night until it is daylight to progress to the next level. Repeat this process to progress more to earn your highest score. The ammo and health cache is in The Mall. But this time it is unlimited waves and unlimited enemys.  Also there is a feature that allows you to play with two people. 
Ad blocker interference detected!
Wikia is a free-to-use site that makes money from advertising. We have a modified experience for viewers using ad blockers

Wikia is not accessible if you've made further modifications. Remove the custom ad blocker rule(s) and the page will load as expected.