Nuclear Weapons
Talk

4
683pages on
this wiki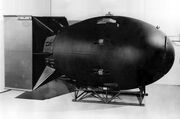 A nuclear weapon is an explosive device that derives its destructive force from nuclear reactions, either fission or a combination of fission and fusion.
Background
Edit
In the event of a zombie outbreak, the government may attempt to stop the spread of the outbreak through the use of nuclear weaponry as seen in World War Z, where Pakistan and Iran destroyed each other.
Effectiveness
Edit
The first part of a nuclear explosion effective against the undead is the initial blast. The heat will incinerate anything in its blast radius. The following shockwave will have mixed results; it will break some bodies or simply knock over others. Radiation and fallout will hamper the lives of survivors in the area. Zombies will be completely unaffected. Radiation will affect the area for centuries!