Television Series
Edit
Theodore Douglas
, more commonly known as
T-Dog
, is a Atlanta survivor first encountered in the episode, Guts, on The Walking Dead (TV Series). He is a man willing to fight for his allies and has a kind heart as seen trying to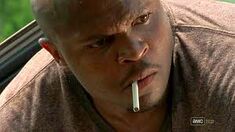 rescue Merle Dixon, twice but failed to do so. He is killed while trying to secure the prison from walkers in Season 3.
Pre-Apocalypse
Edit
Little is known about T-Dog's life prior to the outbreak. He lived in Georgia, however it's unknown whether he was living specifically in Atlanta or if it was elsewhere.
Ad blocker interference detected!
Wikia is a free-to-use site that makes money from advertising. We have a modified experience for viewers using ad blockers

Wikia is not accessible if you've made further modifications. Remove the custom ad blocker rule(s) and the page will load as expected.