Weapon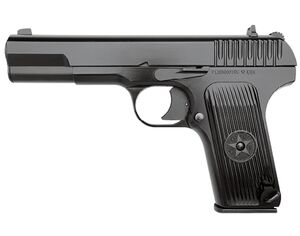 Tokarev TT-33
Manufacturer: Various
Weapon Type: Pistol
Size: 194 mm (7.6 in)
Weight: 854 g (30.1 oz)
Fire Modes:
Semi-Automatic
Ammunition:
7.62×25mm Tokarev
Feeding System:
8 Round Magazine
Rate of Fire: 100 rpm
Range: 50 m
Affiliation(s): Various
The Tokarev TT-33 series of pistols were developed in Soviet Russia in the 1930's to replace the obsolete Nagant M1895 revolver. It fired the 7.62x25mm Tokarev round, which it fired from an eight round box magazine. While the Tokarev was an effective weapon during the Second World War, it was later replaced by the standard issued Makarov Pistol since the Cold War. It is a simple yet robust design with it capable of working even in harsh blizzards. The Tokarev was based on the American Colt M1911 pistol. The majority of Tokarev pistols seen now are usually the Chinese Type 54 although some Russian models still remain in operation today.
Borrows the short recoil system from the Colt M1911 and Browning High-Power, so it's really reliable.
Small, light and concealable, giving the shooter good maneuverability on the battlefield and close quarter combat.
Still manufactured due to it's popularity.
Ammo is not a NATO standard and may need to be imported if the user lives in another country.