Tree House
Talk

0
682pages on
this wiki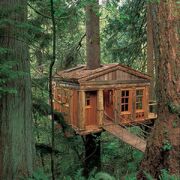 A tree house can be quite useful in a zombie apocalypse for a loner if they have enough food and ammunition to survive. However, a tree house (depending on where you live and how many you have seen in your neighborhood) can be difficult to locate and can be very hard to enter if there is no way up the tree. If it is near your base it can be a useful sniper position however, depending on the size of the tree house, there will not be much room since most tree houses only have a single room.
Advantages
Edit
It can be a good vantage point for a marksmen.
Zombies can't climb up to the tree house.
You would be able to see what is coming your way for a distance.
Disadvantages
Edit
Unless you have a form of escape, you can be subjected to siege.
Bandits can easily penetrate the tree house's lackluster defenses.
Can take a while to build
Usually not much room
Usually not very high up, making escape (if surrounded) difficult
Wood stays wet for a long time
Usually doesn't have good insulation.