Weapon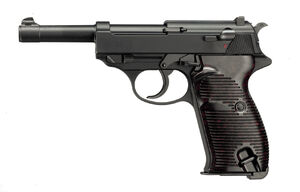 Walther P38
Manufacturer: Walther Arms
Weapon Type: Pistol
Size: 216 mm (8.5 in)
Weight: 800 g (1 lb 12 oz)
Fire Modes: Semi-Automatic
Ammunition: 9×19mm Parabellum
Feeding System: 8 Round Magazine
Rate of Fire: Unknown
Range: 50 m (55 yd)
Affiliation(s): Various
The Walther P38 is a short-recoil, blowback semi-automatic pistol designed and developed by Walther Arms during World War 2. By the late 1930s, the Luger P08 being produced at the time became not only complicated to manufacture, but also costly and therefore the German war machine needed a new cost effective pistol to replace it.
The Walther P38 would replace the Luger by 1938 and continued production as well as service even after Nazi, Germany fell to the Allies.
Specifications
Edit
A cost effective handgun, the Walther P38 was a simple design. It utilized a blowback system popularized by many pistols introduced by the early 20th century. The pistol included a barrel that extended out from the receiver almost 5 inches in length and used a simple magazine system. The weapon fires a 9mm Parabellum in magazines of 8 rounds and has little recoil.
Very little recoil and semi-automatic fire make it perfect for accuracy.
Lightweight and concealable, giving the gun perfect usage in terms of quick-draw, maneuverability and close quarters combat.
Ammunition is plentiful for this pistol.
Though it is a rarity for this pistol, the P38 does have a tendency to jam.
Like the Browning High-Power, the P38 features a large hammer on it which may cause "Hammer Bite" which is a minor thing.
Ad blocker interference detected!
Wikia is a free-to-use site that makes money from advertising. We have a modified experience for viewers using ad blockers

Wikia is not accessible if you've made further modifications. Remove the custom ad blocker rule(s) and the page will load as expected.