Weapon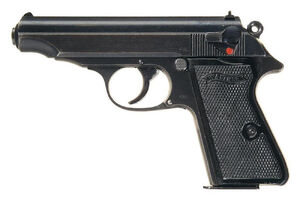 Walther PP
Manufacturer: Walther Arms
Weapon Type: Pistol
Size:
170 mm (6.7 in) (PP)
155 mm (6.1 in) (PPK)
156 mm (6.1 in) (PPK/S)
165 mm (6.5 in) (PPK-L)
176 mm (6.9 in) (PP-Super)
Weight: 560 g (20 oz)-780 g (28 oz)
Fire Modes:
Semi-Automatic
Ammunition:
.32 ACP
.25 ACP
.380 ACP
9×18mm Ultra
Feeding System:
9-11 Round Magazine (.22 LR)
8-9 Round Magazine (.32 ACP)
7-8 Round Magazine (.380 ACP)
Rate of Fire: Unknown
Range: Unknown
Affiliation(s): Various
The Walther PP ("Polizeipistole" or "Police Pistol") is a series of blowback short-recoil, semi-automatic pistols produced by Walther Arms. Initial production began back in 1929, a full 4 years before the rise of the Nazi Party. It was first issued to Police and law enforcement officials, but would later be issued to members of the Nazi Party alongside the Mauser C96, Luger P08 and Walther P38. After the war, the pistol became rather popular with other militaries and even popularized by civilians.
Specifications
Edit
The Walther PP series is one many people don't overlook. The Walther uses a simple blowback system similar to that of the Colt M1911, the Browning High-Power and even the Tokarev TT-33. It is chambered in at least 5 different ammunitions and varies in terms of magazine capacity as well as weight and variations.
Concealable and lighter than most pistols like the TT-33 pistol, making it excellent for close quarters combat and quick drawing.
Some of the gun's ammunition are more plentiful than others.
Not really a problem in terms of hammer bite
It might have a tendency to jam sometimes, but that's not always the case.
Many famous people, both fictional and actual have carried this gun. Adolf Hitler carried a Walther PPK chambered in the .32 ACP which he used to take his own life. Elvis Presley carried a silver barreled PPK that was engraved with the letters "TCB" which stood for "Taking Care of Business". Ian Flemming's iconic MI6 00 Agent James Bond carried a Walther PPK as his signature weapon alongside several other Walther Arms guns such as the Walther P38 and even the Walther P99.
Ad blocker interference detected!
Wikia is a free-to-use site that makes money from advertising. We have a modified experience for viewers using ad blockers

Wikia is not accessible if you've made further modifications. Remove the custom ad blocker rule(s) and the page will load as expected.