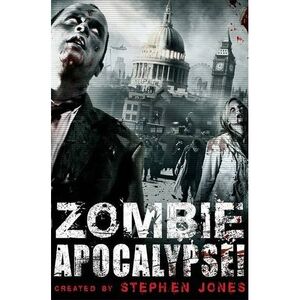 Zombie Apocalypse
is a novel written by Stephen Jones and several other contributors.
This is a collection of "accounts" of the zombie apocalypse that sweeps England after a plague pit is dug up for the "New Fesitval of Britian" which releases fleas infected with the "Human Reanimation Virus". The virus spreads all over and humanty may fall.
This novel is much different from many other books. It is in the style of emails, diary pages, transcripts and many other things.
The Virus
Edit
Sequels and side stories
Edit
There is a sequel to this novel called Zombie Apocalypse: Fight Back. This novel is written in the same way but continues the story. The sequel details the rise of sentient zombies and the war against them. The book also has a section behind the science of infection. There is a third main book called Zombie Apocalypse: End Game which is the final book in the main series. Side stories include Horror Hospital and Washington Deceased.